Erwin Straus (1891-1975)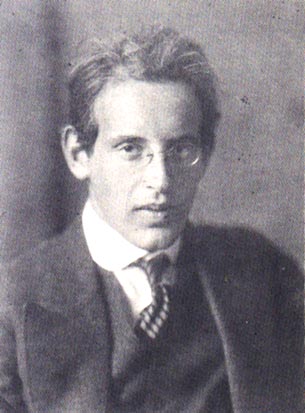 "...the consciousness of the individual person unfolds as the experience of his own inner history. Every single moment is a phase in his historical becoming. Everything coming into consciousness in a specific moment is determined by how it fits into the course of this becoming or how it arrests or runs counter to it. Everything attention lays hold of, is present and is now. But this Now is the Now of the inner life-history, whose progress in becoming is not measurable by the standard of objective time."
Straus, a German born neurologist, psychiatrist, and philosopher, was a member of the inner circle of the European movement of anthropological and phenomenological psychiatry. This group was dedicated to combatting mechanistic and physicalistic viewpoints in psychiatry, and establishing a broad philosophical conception of man's existence. Straus declared his personal allegiance to the defense of a holistic view of the human person, with respect for the autonomy and dignity of the individual. These ethical issues permeate and animate his psychological writings.
Links
Erwin Straus at Victor Barbetti's E.P. Page
What is Phenomenology?
Phenomenology Page
Simon Silverman Phenomenology Center (home of the Straus alcove)
"Emotion, Movement and Psychological Space" by Brent Dean Robbins
"Medicine's Re-Reading of Philosophy" by Richard Zaner
"On Turning a Zen Ear" by David Appelbaum
"The Existential Megabomb is Still Ticking" by Alvin R. Mahrer
"Person Perception" by C.G. Boeree
Janus Head
International Human Science Research Newsletter
Society for Phenomenology and Existential Philosophy
Center for Philosophy and Phenomenological Studies
Center for Advanced Research in Phenomenology
Recommended Books:
Man, Time, and World : Two Contributions in Anthropological Psychology (out of print)
by Erwin Straus
Phenomenological Psychology (out of print)
by Erwin Straus
On Obsession (out of print)
by Erwin Straus
Insight into Value : An Exploration of the Premises of a Phenomenological Psychology
by Andrew R. Fuller
Our Price: $21.95
Phenomenological Psychology : An Introduction
by Raymond J. McCall
Our Price: $13.95
Phenomenological Inquiry in Psychology : Existential and Transpersonal Dimensions
by Ronald S. Valle (Editor), Ron Valle (Editor)
Our Price: $42.50
Theories of Anxiety
by William F. Fischer
Our Price: $21.50
The Absent Body
by Drew Leder
Our Price: $17.95
RETURN TO EXISTENTIAL-PHENOMENOLOGY PAGE
RETURN TO MYTHOS & LOGOS HOME PAGE
Webmaster: Brent Dean Robbins